Hotel rates are raising in Singapore especially those located in strategic location. I was able to experience a hotel near the heart of the city. What really attracted me was the free complimentary mini bar that was advertised. I was a little disappointed as they only offer drinks and no snacks. There were 2 bottles of oranges, 2 can of coke, 2 bottles of drinking water, 1 can of milo and 2 cans of beer. Where are my chips and chocs?
On top of it, the package came with free WiFi, most hotel I previously stayed I have to pay. The room was clean and not too small. It has a 32" LCD TV. It is also a smoke free hotel. If you caught smoking in the room, you are fined with SGD300. As always, Singapore is a fine city.
Royal Plaza Hotel is situated near Orchard where the shopping arena is. It is also very near the MRT stations.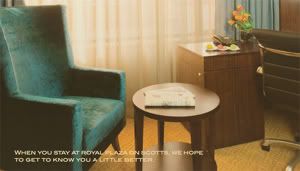 Cleanliness:





Service:



Facilities:




Overall: