I am not a person who can read a book from cover to cover unless it is a comic book. I have read many books but never finished reading it. Most of the time I will scan read and skip chapters. Do you do that?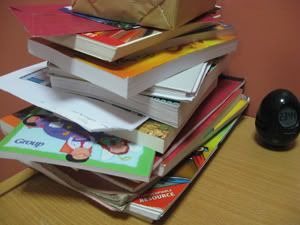 However I need to read to learn the latest and upgrade myself. I have so many books that I want to read but I don't have a lot of time. Look at the stack of books I have to read to prepare my big task next year. I am already sweating now. I have been called to take up the Sunday School as a superintendent. So pray for me.
Not to mention, I also need to read books related to work. I am so glad with the technology today, I can just do a quick reading on the Internet for the latest techie news. Sad to say, many young people read a lot of stuff from the net but not actually reading a book. For me I still prefer the good old book.
Now I wished there is an osmosis process to transfer the books stuff to my brain just like that. Ok I am dreaming…..