Many mothers have asked me about Google Reader and how it works. It is simple to use.
There is no installation is required. Which means you can go to any computer to login to read blogs. You just need a google account. If you have a gmail account, that will do. Go to http://www.google.com/reader and Login.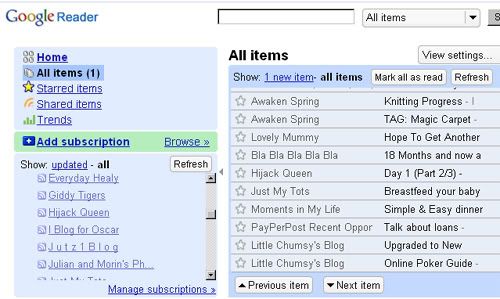 To add blogs, just click Add subscription and key in the blog url. You don't even need to know the blog type, the feed URL and other technical details.
When you click "All Items", the blog name and titles will appear on your right frame. You can even click to go from blog to blog on the left frame. Some asked me how I can tell whether they are sponsored post. I can recognize most paid post by the titles.
If Google reader can add filter, it will be perfect. As I can filter you know what post.