Finally, we Malaysian are able to withdraw money from PayPal. I have been waiting so long to do this. Previously I ask my dear friend in US to help me do that. Now I can do it on my own. Hoorayyy!!!
Instructions here:
1. Login to Paypal
2. Click Withdraw
3. Click Withdraw to your bank account
4. Fill up the Bank details and remember to ask your bank for MEPS bank routing quote.
5. Hit Continue…Follow the instructions..
Sorry, I didn't go as far as #5 yet.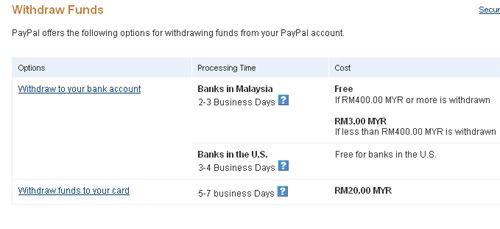 No fees if you transfer more than RM400.00 and anything below, charge of RM3. Happy Withdrawing!!!