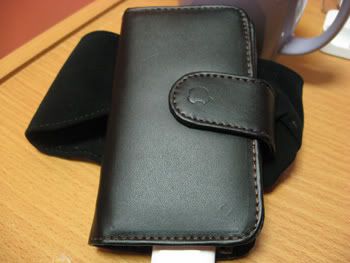 Yeap, it was my 16G iPhone that came all the way from US for me. The last one I got was from my hubby. You must be asking, why I liked iPhone so much. I can go on and on. So far, I have influenced a bunch of people to get iPhone. Apple should give me some commission.
I like the Safari browser. It is superb, fast and zoom-able using your fingers. It has WiFi, I can surf at home without booting up my computer. I can sync my work meeting schedules onto my phone with ease. Now I get reminder from my phone on meetings. I need that because a few cases, I missed night telecons because I forgot all about it. It has iPod which is great for viewing video, music and sermons. I managed to copy some of my children video in my iPhone. Now I am trying ways to copy CSI series onto my iPhone which I can view when I am travelling.
I can check my gmail whenever I am connected. I can either use WiFi or Digi Wap to download emails. By the way, there is a free VOIP software too which I haven't tested out yet. With VOIP, you can dial anywhere in the world without worrying about expensive charges.
Here are some of the tools I used:
SimPort – Copy all my SIM contact to the iPhone.
iZoo – My favorite game.
eBooks & KJV – Electronic Bible.
Dictionaries – Concise Britannica & Merriam Webster with pronunciation.
Converter – Converts all kinds of measurements.
iToner – Copy ringtones over.
iTunes – Sync Office Outlook Calender & Mails.
I am hunting for a WinXP Tool that I can copy files directly to the iPhone. With that, I can change ringtones, wallpaper and copy applications over. Believed me, iPhone is like a palm computer with a superb Mac OS.
If you are an iPhone user, let me know what other good tools out there.. 😉