I love Chinese dessert especially "tong sui" meaning sweet soup dessert. We have red bean soup, green bean soup, almond soup, bubur cha cha, herbal egg, peanut soup, black pulut soup, sweet potatoes soup and sweet sago dessert. It makes me drool just thinking about it.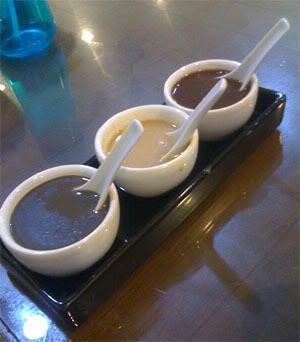 There is this eating place in I-Avenue Bayan Baru Penang call Chopstick. They served mini bowls of red bean, black pulut and peanut soup. All 3 are my favorite soup. I like the way they served it in small portion so that I will be able to taste all 3 soups. They should prepared more variety and I think it can sell well.
Last time when I was small, there is this "tong sui" seller who comes around our house. We used to line up to buy his desserts. We drink them for supper. Yeap, we Cantonese like soups a lot!