First it was the pliers and then I found a beads shop. Put them together, I get to make wire jewelry. I got a set of jewelry kit for a long time and I had no time to play with it.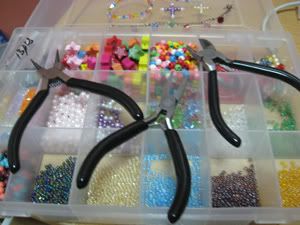 However, one of my Sunday School children thought me how to make a nice simple earrings. I like it very much especially twisting the wire with the pliers.
I found a beads shop called JoJo accessories which sells very nice Swarovski crystal. I wanted to make some bracelets with it. Here are my innovations:
Ok, I am still beginners and still mastering how to twist the wire nicely. If you know where I can get cheap and nice beads, let me know. By the way, I will be in hobby lobby soon and I tell you I will sure go broke if I enter that store.