One Saturday morning, I woke up and switched on the TV. I was sucked in by the Infomercial, you know where they sell things on TV. This was in US. I tell you I cannot live there else I go bankrupt easily.
I saw a vacuum broom and it is so need. The minute I saw it, I wanted it. The TV deal was 2 for US29.90. Great deal right? Nope I didn't get it on TV, I am not that crazy.
However I was hunting for it in the local store when I was in the Bay Area. I was in the dilemma to get it or not. Finally, Vien took me to Macy at Stanford Mall and found one there. I like the packing, it is small and I can definitely stuff into my baggage.
The electric vacuum sweeper is very flexible, you can maneuver it through every corner. It sucks up all my fallen hair that my broom cannot sweep. It does not need a vacuum bag. It is wireless which means you don't have wire dangling everywhere when you use it or trip over it. It has a charger for you to charge it up. The suction is pretty strong. Since it is a US unit, I need a step down transformer to charge the battery. With the help of my hubby, I managed to get one which is small to convert 110V to 240V. Pretty need. Don't you want to get one too? I bet if I imported a whole bunch it, it will sell like hot cakes here.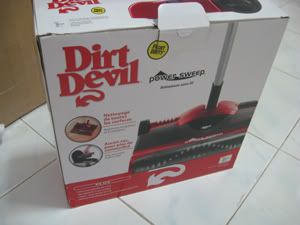 Step Down Transformer: