Last time when I was at Victoria Secrets, I walked in and walked out empty handed. I am not a lingerie person. There wasn't anything for me. This time around, I walked in and I got these goodies.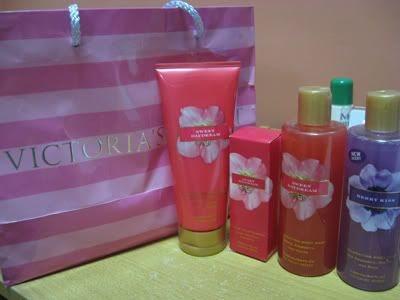 I am not sure whether it is cheap or not but I know that we cannot get any here. It was 5 bottles for US$25 or 7 bottles for US$30. I also got lots of sweet smelling sanitizers from there. Maybe they should open a chain of Victoria Secrets in Malaysia. I am sure lots of ladies, even men would be interested.
One guy who took a hanger of lingerie and asked the sales lady loudly, "Is this set complete?" "Do I need to get anything extra?" That was funny. The sales lady got shock for a while and later helps him. I used to subscribe to VS catalog and I like most of the blouses there. However the shipping is costly. Lets hope it will come here soon!