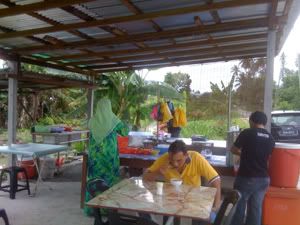 Today where can you find a bowl of Asam Laksa for RM1 about US 30 cents? Seriously, there is and the place is in Kuala Jalan Baru, Balik Pulau, Penang. The stall is set up very long ago, asam laksa used to be only 30 sens.
It is also a DIY asam laksa stall, meaning you scoop your own noodle, cut your own cucumber, onions, kunyit, chili and scoop your own hot soup. You can put as much as you one in the bowl with no extra cost. Of cause the bowl is small.
The stall is managed by a malay family. I loved the Asam Laksa here. I can have at least 2 bowls of it on any day. If you go to Balik Pulau, you must go taste the special DIY laksa.