I love spending time doing any type of puzzles. When I was in University, I used to put 1000 pieces of jigsaw puzzles together. It is one of the best past time hobby because most of the time I spend at home and less time for me to spend money outside.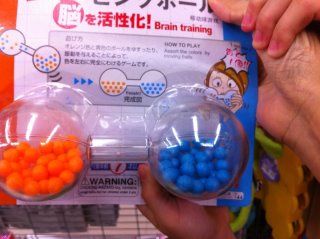 Today while I was shopping at Daiso, I saw this puzzle. Actually before that, I have seen it many times. I told myself, it is impossible to separate the color balls. Never took a second look. However today, I picked it up and started playing with it. Then I discovered a method of doing so. It took me 5 minutes to separate the color balls. Cool right?
Try it when you go into Daiso the next time. It is also a test of your patience.