Ever since this picture had been published in the newspaper, lots of people or photographers came to this street to enjoy the beautiful flowers that blossom. Actually the trees have been blooming beautifully every year. However this year, due to the rainy weather and the right time, it has bloom very beautifully.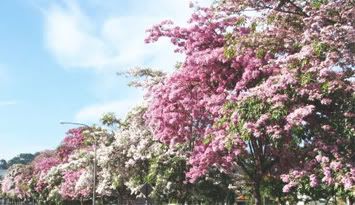 Yes, Penang does have a sakura street. Everytime I passed this street, I been asking my the other half to take some pictures. It was like 2 months ago when not many people discover the place. Oh well, due to his busy schedule, it didn't happen.
For those of you who are interested to know where this is. It is the street from PISA to Pantai Mutiara Hospital called Persiaran Mahsuri. A little word of advice, if you are a photographer, be careful of incoming cars and not too carried away with photo taking. It can be dangerous. There are some silly photographers who stood in the middle of the road to take pictures. It is very dangerous to do that.
Today, I saw a family wearing winter clothing and have their pictures taken. Sorry no snow in Penang yet.
I wished the govt will plant more of these trees and make Penang famous. 😉