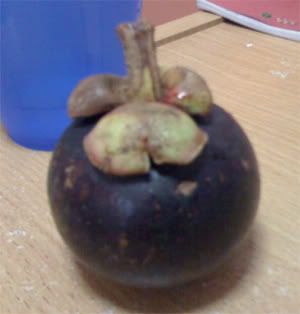 It is in SEASON!!! Yeah it is one of my favorite fruit. Some countries may not have this fruit, it is really too bad for them.
The fruit is purple outside but the edible part is white. It is juicy, sweet and very nutritious. I heard now they have pure juice extract from mangosteen. I wonder how many mangosteen to make a bottle of juice.
Do you know that if you look at the bottom of the fruit, you can tell how many edible white parts in the fruit? Example the one in the picture has 7 petals which mean it has 7 white parts in the fruit. I love choosing more petals. Simply delicious, if your country does not have this fruit and you are in Malaysia, you have to try it.