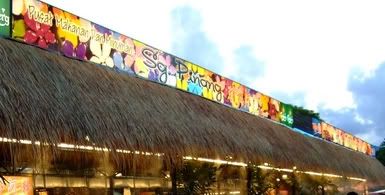 Many asked me where are the good food in Penang. Well, good food is everywhere. I believed everywhere you go, there are hawker stalls. Most hawker stalls have asam laksa, chow kuew tiew, Penang G cheong fun with dark prawn paste and others.
I always passed by the Sg Pinang Food Court when I am on the Jelutong Highway and I decided to drop by for some good food. I must say that there are a lot of varieties of food there. If you are here, you should go. It is not hard to find if you go on the Jelutong Highway heading to town. You have to go early to get a place to sit, it is always filled with people.
One special store is the BBQ seafood stall. Many varieties of seafood that you can bbq to eat. I ordered the special bbq brinjal. It is the most expensive brinjal I ever eaten. It cost me RM8. From a local point of view, it is costly.
You must try this place if you are visiting Penang. It is not very hard to find.