Love it! Love it! Absolutely love it. First of all, after many years of points collecting, I get some complimentary stay in Hyatt for my family. I would pick this hotel every time I go to Singapore for business. Sad to say that because of cost cutting, they remove this hotel from the preferred list. I hope they add it back on.
Why do I like it so much? First the staffs are super friendly. They treat me the same even though the stay was complimentary. Next, the room is spacious, especially like the bathroom. The TV is a huge flat screen.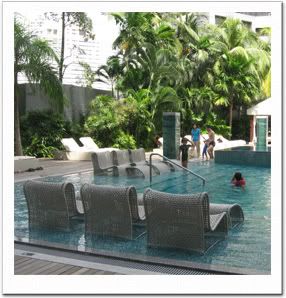 I am glad they renovated the swimming pool and provide a children pool. My children absolutely love it. While my children were enjoying the pool, I ordered breakfast by the pool. It has my son's favorite garlic bread and chicken drumlets. They love it. They asked me whether they can stay another night there.
Lastly as I was checking out, the staffs casually ask my feedback on the stay. I wasn't complaining but told them the air condition in the room was not working well. It switched off by itself and I had to turn it back on. For that, they waived my bill for my stay. Isn't that great, hardly get this type of service in Asia.
I will sure return to stay with them again! Absolutely.
Cleanliness:





Service:





Facilities:





Overall: