It definitely has a great view of the sea and the staffs are friendly. First time I am greeted with a big smile from hotel staffs. While I was checking in with my family, the staff served us all with a welcome ice cooling refreshing lemon tea.
The room was just nice, not too big. I took the sea view room and it was excellent. You are able to sit on the balcony and enjoy the pleasant view. It has a nice bath tub too. Too bad the TV is not a LCD or flat screen TV. It has wifi at the pool area, lobby and the room.
They have also renovated the pool area that gives a Hawaiian feeling with lots of huts, coconut trees and sun bathing benches. It looks like I was in Hawaii for a while.
If you enjoy water sports, there are water ski, sky parachuting, Jet Ski and banana boat. You can also do some sun bathing or walk on the beach. It is really a great affordable vacation!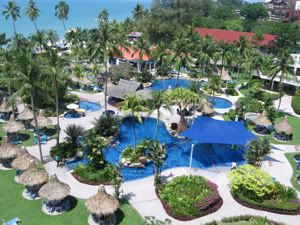 Cleanliness:





Service:





Facilities:





Overall: