My mom taught me how to make good double boiled soup. She gave me some Cordyceps Sinensis which she gets from the local Chinese medical shop. Cordyceps used to be very affordable but lately it is getting expensive. I heard one piece costs RM70. Fortunately for me, my mom gave me whole packets years ago.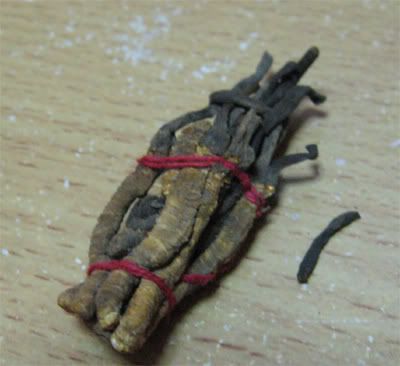 Cordyceps are a type of fungi. It looks like a worm but it is not. The Chinese called it "Dong Choong Cao" It is said that cordyceps strengthens body immunity, improve respiratory conditions, improved fatigue and stress resistance.
It is simple to make delicious soup with cordyceps. All you need is a chicken, water and cordyceps. For my family, I usually just use a chicken drumstick. Put them all into a double boiled pot and boiled for 8 hours or more. After it is done, you can put a pinch of salt to taste. Believed me it taste delicious and it is nutritious. You try it.