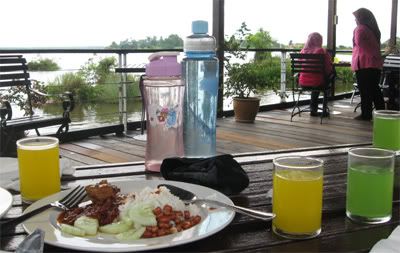 On Saturday, I had breakfast with a view. I must say that it is really refreshing. Away from the hustle and bustle lifestyle. I was enjoying my delicious nasi lemak with a lake view of Bukit Merah. A short journey of 45 minutes driver from Penang Island.
Bukit Merah Resort is famous for its waterpark where children go there for splashing and water play on a hot summer day. Besides the waterpark, you can enjoy the nice lake scenary or visit the Ecopark where a small zoo of animals resides.
I booked myself into the Laketown Resort. It is a 2-3 stars hotel. The rooms are spacious for a family. One thing lacking there is good food. They do have a variety of local Malay's stores, offering local delicacies but most of they are spicy food. The food was just ok. Lots of room for improvements. All I can say, I did enjoyed myself there.