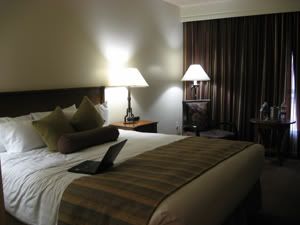 I stayed in this hotel in Jan 2010 on my business trip to Santa Rosa. However my stay wasn't that pleasant. It had a bad start and finish. I booked the hotel through my company travel agent and it was suppose to come with a free breakfast and Wifi. I was very sure of it because I checked before I booked it.
On the day of arrival, the front desk told me no complimentary breakfast or Wifi. I should have printed out the reservation info. Anyway I went online with paid Wifi to verify and call the front desk. The front desk verified again but he said I can have the free Wifi but no complimentary breakfast.
I stayed there for 4 nights and on the second day, I received a notice from the General Manager with an email address. I wrote to him with regards to my complimentary breakfast. He told me to go ahead and order the breakfast, he will have it waive off my bill. Pretty cool.
I worked late for a few nights and in the morning, I called room service for breakfast so that I do not have to make a rush.
At the end of my stay, the bill came but the breakfast was charged. I told the checkout person but he told me that room service was not part of the deal. He also explained to me that I should get the complimentary breakfast vouchers upon check-in and have my meal in the restaurant. I wasn't given those vouchers upon check in and the GM didn't say I could not call room service for breakfast. I just didn't like the way the checkout guy talk to me. Anyhow, he settled it with his GM.
Another upsetting part was I went for dinner at Brasserie Restaurant, I wasn't given a menu for ordering. I had to get the menu myself. On top of it, the waitress who saw me didn't bother to come and take my order. I had to go to another part of the dining area and a waiter serving that area served me right away.
On the last day, there was a fire drill but there wasn't any notice given. All the doors were closed. I took the stairs but it led to a lock door. If really there was a fire, I will be dead. I climb back up the stairs. The drill was over when I came out of my room but no one bothers to open back the doors. Ooh there was also a door for the elevator. Elevator was not working too. I had to walk a couple of rounds to get to the exit. Imagine dragging my bags here and there. It was really frustrating.
There wasn't any DIY laundry service and I have to go to Marriott Hotel next door to do my laundry. The front desk lady was kind enough to do a electronic key for me to get into the laundry room and provided free WiFi while I waited for the laundry to be done.
I will not ever stay there again! Of all the Hyatt hotel I stayed, this was the poorest customer service ever!
Cleanliness:





Service:





Facilities:





Overall: