As some of you know by now, I am on business trip to US. It was really an adventurous trip. First when I booked the flights, the agent told me that all going there flight are full. She can try to get me in. I have to go this month because I don't want to travel during CNY. March will be too late.
I liked my company's agent, she did the best to get me what I wanted. However traveling on a full flight is not a good thing. I have to say that this time I wasn't happy with SIA. I am not sure but I sense a short of staff on the flight. Meals didn't come on time and there was no response to my service call. Thumbs down for SIA. A lot of people were sick on the flight, I heard coughing and nose blowing.
Changi Airport Deco
Secondly, Vien warned me there was a storm coming in to SFO. I was worried as I have to drive to my destination. It did do a lot of damage but God helped me through. Thank you for all your prayers. This was my adventurous flight route.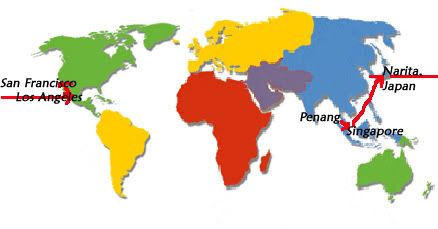 Penang -> Singapore (stayed overnight in Singapore to catch the early morning flight out)
Singapore -> Narita Japan (6.5 hours)
Narita, Japan -> LAX (9h 55m)
LAX -> SFO (1 h 21 min)
When I came in to LA airport, it was a mess. Lots of flights were canceled due to the storm. The flights before mine were all either delayed or canceled. I was fortunate, my flight was on time and reached SFO safely. At the SFO airport, it was a real mess, baggage was everywhere. People were all over looking for their baggage.
By the way, I learned that odd size baggage will not be at the baggage collection area. What did I bring to US that is odd size, have a guess. It was for Vien's new baby. You won't believe what I got for her. If you really can guess, I probably must get you something from US.
Today, I had to drive for 1.5 hours to my destination which you know why I was worried about the storm. I heard the storm shook the Golden Gate Bridge. In the next post I will share more about my interesting discovery about a new car.