I love all kind of mango. I got a bunch of green mango from the tree in my church. Thanks to my church friend who use a long stick to whack the fruit down.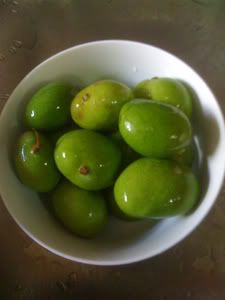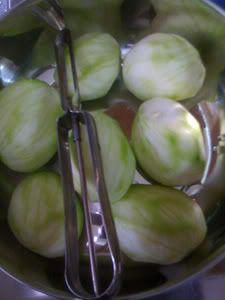 This type of mango cannot be eaten just like that because it is very sour. It is good for making preserved mango or eaten with rojak sauce. Some home I love smelling this mango because it is very fragrant. They should make a perfume from this fruit.
Here is the simple recipe to make delicious preserved mango.
1. Remove the skin and the seed in the middle.
2. Slice it to pieces.
3. Add 1 teaspoon of salt and mix it. Let it set for 5 min.
4. Add 10 tablespoon of sugar. If you like it sweet, you can add more. If you like it spicy, you can cut and add some cili padi.
5. Put it in a container with the sugar juice and let it set in the fridge
Yummy…simply delicious. However I cannot take a lot of this because my teeth will be painful.