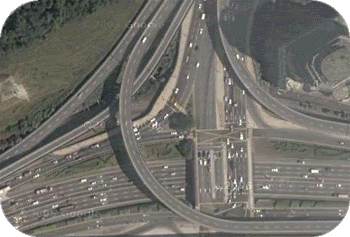 Picture Credit: Google Map
Kuala Lumpur roads have changed so much since I left home in year 1998. Now there are more and more highways. It sure looks messy. I still can manage to drive to most places. However I did made a few wrong turns.
By the way, wrong turns in KL can be very costly. Once I ended up paying 2 tolls when I could have paid none if I didn't made that wrong turn. Worst is, it is a longer distance which means a waste of petrol.
I found that a lot of KL drivers are always rushing which means they like to speed, tailgate and cut queue. I used to be one of them but I have changed ever since I move away. I heard over the radio that most of the above mentioned can lead to a big ticket.
I bet if everyone drives courteously, everyone will reach home safely and faster. Often traffic jams are caused by those who cut queue or cause a deadlock in traffic, because everyone wants to pass by no one wants to give in. Of cause the most obvious ones are those who cause accidents and those who are kepoh aka busy bodies looking over at the accident.
Anyway drive safely if you are travelling long distance during Chinese New Year. If you cannot, please take a flight or a train. I don't even dare to recommend taking a bus.