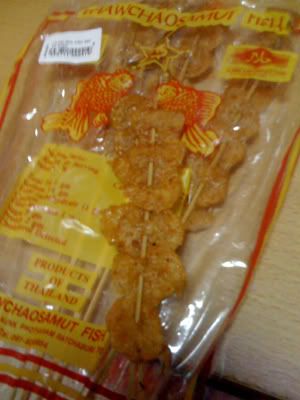 Have you eaten this before when you were in primary school? I love to eat this and I remembered my canteen is selling at 5 sen for 2 sticks. Even today, I love to eat it. It is sold at my local supermarket.
Basically it is fried fish stuff but it taste delicious. It has some sesame seed on it. If you leave it in the fridge, it becomes crunchy. My son loves it. Too bad his school canteen does not sell it. His school canteen is pretty pathetic, nothing much is sold there.
My school canteen has almost everything. We have asam laksa, noodle soup, karipap, all kind of fizzy drinks and of coz my favorite junk food store. The canteen lady even knew me by name. See I am so popular in her store. She does give me extra noodles when I buy from her.
I also missed the ice balls with Sarsi syrup. One ice ball was sold of 5 sens. It is kind of messy to eat. Normally I just suck the icy juice. Of coz there is this ice-cream potong. You get to spin the small ferris wheel and when it stop, the needle will determined how many stick of ice-cream you get. Once I got 10 sticks. Fortunately I have my friends to help me finished it. These were sold outside of school gate which is not legal. Those were the day.