I love doing online shopping and I usually buy from ebay and Amazon.com. Weeks before I went to US, I did most of my shopping in Amazon.com. In Amazon.com, I get free shipping and no tax if I ship to Bay Area in US. It is better than physically shopping in Bay Area. Imagine 9.25% of tax added to your buying cost. Not fun!
I managed to get most of my son's transformer toys there and it was on special too. I couldn't find the latest Fallen in the local stores. I am glad I made the decision to get it online. My boy and nephew are grinning from ear to ear to see what I got for them.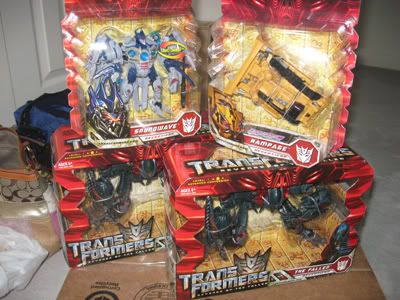 I was also hoping to get a Spongebob Lego for my gal. I saw a couple of sellers in ebay having that product. However I didn't win any of the bids. The price of the Lego was ok but the shipping cost was ridiculous. I managed to get it from Amazon.com at $37.90 without tax and shipping charges. The local store was selling from $39.90 + 9.25% tax.
If you are in the US, do pay attention to Amazon.com. I wished they have free shipping in Malaysia. That will be so cool!